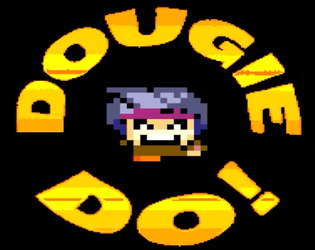 Dougie Do! (ZX Spectrum Next)
This game is for the ZX Spectrum Next computer.
Game Instructions
After his brother ran away to the circus to collect cherries. Dougie Do decided on a more profitable career .. Diamonds..
Use Dougie to collect diamonds whilst avoiding enemies. To combat enemies, Dougie can drop bombs & rocks. Be careful though, these can also kill Dougie. Finally be aware that not all enemies are the same.
Complete all 10 levels by either collecting all diamonds or by destroying all enemies via rocks.
Scoring
25 Points - Bomb Enemy
50 Points - Collect Diamond
100 Points - Drop Rock On Enemy
500 Points - Complete Level
Extra Bomb - Awarded Every 30 Diamonds Collected
Extra Life - Awarded Every 6000 Points
Controls
Keyboard

Q - Up, A - Down
O - Left, P - Right
Space - Drop Bomb, Enter - Pause Game

Kempston Compatible Joystick
Credits
Coding - Rob Moran
Music - A Man in His Techno Shed
Sound FX - Borrowed from the games

NZ Story
Eliminator
Amaurote
Arkanoid
CSpect - Platform used during development
sjasmplus - Assembler used for development
Dezog - Z80 Debugger used for development
Remy's Sprite Tool - Used for sprite and tilemap development
Shiru's AYFX Editor and Player - Used for sound effects development
NextDAW - Used for music development
Ped7g - Play testing and debugging
Dean Swain - Retro Asylum - Play testing in between taxi duties
TJ Ferreira - Play testing and posting of beta gameplay video
BigFatGingerCat - Play testing
Almac - Play testing
And finally thanks to Mr DO!, Dig Dug and Digger for being such great games and providing inspiration.
Feedback
I hope you enjoy playing this game as much as I've enjoyed creating it. Please leave any comments below, also if you encounter any bugs please leave a description and whether it can be replicated.
Enjoy,
Rob.
Install instructions
The game has been tested on a physical Next, a MiSTer and the CSpect emulator; if you encounter any compatibility issues with other emulators or systems please leave a comment below.
For both physical platforms and emulators, it is advised that you hard reset your machine before running Dougie Do!
Steps: Physical Next and MiSTer Hardware
Copy the file DougieDo.nex onto your ZX Spectrum Next SD Card
After starting the hardware, select DougieDo.nex from the browser to launch the game.
Steps: Emulators
Copy the file DougieDo.nex into your ZX Spectrum Next SD image using a utility such as hdfmonkey e.g. hdfmonkey put <filename of SD image> dougiedo.nex
After starting the emulator, select DougieDo.nex from the browser to launch the game.
Comments
Log in with itch.io to leave a comment.
Is this game using the Spectrum Next 320×256 pixel Tilemap Mode?
Yes. I'm only using layer 2 on the title screen. The full code is available on GitHub.
Awesome game ! Congrats to the whole team involved in this master piece.
Cheers thanks for the kind words and video. It makes it all worth while when people actually play your game👍
A great little game for the Next I really enjoy playing it, and thanks for producing it!
Thank you!! I'm playing Dougie Do! on real hardware and the MiSTer FPGA. No issues. Having lots of fun playing Dougie DO!
:)
Cheers thanks for the kind words and feedback. I'm currently writing a new more ambitious game, so stay tuned👍
Here is my tribute to this lovely game...
Thanks for the video, glad you liked it. Have you tried keyboard control, you might find it easier👍
Thanks for playing and the gameplay video, only another 3 levels to complete :)
As well as dropping the rocks, have you also tried pushing them as well. This tactic is useful to destroy the spawn and also to drop onto other enemies as they move up the screen.
What a great game and Awesome music that fits the game perfectly.
Loved Mr Do!
How about Bomberman NEXT! get it? lol, Ace!! Youtube vid incoming!!
So glad you liked it. The beauty of the Next, is that it gives you an opportunity to create new versions of old retro games. So who knows, Bomberman🤔👍